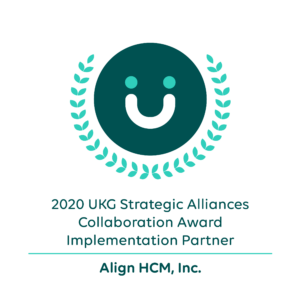 Align HCM received the "2020 UKG Strategic Alliances Collaboration Award" from Ultimate Kronos Group (UKG).
The award is given to certified UKG Partners who have an exceptional partnership with both UKG and their customers.
UKG works closely with certified, industry-leading partners like Align to help UKG customers enhance and deploy their software solutions that include UKG Pro™, UKG Dimensions™, and UKG Ready™.
Align is proud to be recognized as one of UKG's top partners.
The award highlights our company's commitment to providing the highest-quality experience for customers adopting or optimizing UKG products.

Working closely with UKG has allowed Align to provide this elevated experience for our customers. Through teamwork, collaboration, and putting the customer first, we have been able to execute software implementation and optimization projects that allow our customers to unlock the true potential of the UKG suite of solutions and empower their most important asset, their people.
"They are professional, responsive, and thorough, and they show they care in everything I have had the experience in working with them on." — Ron Huie, Executive Relationship Manager at UKG
Align partners with UKG to identify the best solutions and services for customers. Our mutual trust and commitment to collaboration allow Align to produce positive outcomes that help our customers get the most out of powerful UKG products.
"Working with Align on our UltiPro configuration was an incredible experience. Our configuration partners at Align engaged us throughout the project.

We now have an amazing product and a solid foundation/understanding to build on." — Anna, HR Analyst
Align is a proud partner of UKG since 2018 when the company launched. Founders, Maher El-Abdallah and Nadeem Mourad, were drawn to UKG because of the power of their products and their purpose.
"Our partnership with UKG is what empowers us to empower our clients. We love working with their products which are the best in the industry," says Align HCM President and Co-Founder, Maher El-Abdallah.
"We are also drawn to their 'our purpose is people' approach. We embrace the idea that people are the most important part of a company — and we use UKG's products and mission as a foundation to help our customers also prioritize their people for the good of their business and teams."
Learn more about how Align leverages UKG products to provide powerful outcomes for customers. Review our library of client success stories.