When an organization needs to update, modify, or implement new HCM software, they usually don't have time to waste. They need help, and they need it fast.
So when a consultancy tells them when to expect the completion of their project, the organization anticipates and looks forward to that date.
Unfortunately, almost half of the companies waiting for their project will be disappointed. According to Raven Intel metrics, only about 55% of HCM projects are delivered on time.
At Align HCM, we've been able to exceed the industry average and deliver projects on time 75% of the time.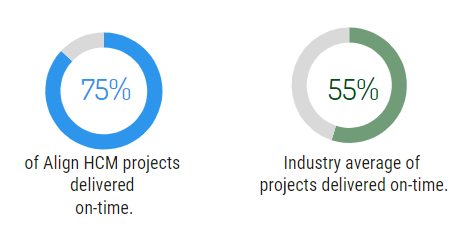 By taking a partner approach to our customer engagements, Align is able to deliver more projects on time (and on budget). Let's look at the lessons we've learned that help us provide more accurate proposals and delivery dates.
How To Use a Partner Approach to Deliver More Projects On Time
It's no secret that the scope of HCM software projects can quickly change. Organizations are constantly growing and evolving — and so are their needs.
It's common for scope to change in the beginning, middle, or end of a planned project. This is the reason why so many projects are delivered late and over budget.
According to Raven Intel, the industry average of projects delivered on budget is just 56%. At Align, 95% of our projects are delivered on budget.
We are able to deliver more projects on time and on budget by taking a partnership approach to our HCM projects in four primary ways.
#1) We get to know the organization and the people running it.
At Align HCM, we see each organization that engages us as an extension of our team. We don't see them as customers; we see them as partners. That means we get to know both their business and their team.
We look closely at the way they work. We take time to understand their culture and what they need to be successful.
We identify decision-makers and internal processes to see what will drive the project forward and what might hold it back. These insights give us a deeper understanding of how the project will unfold and allows us to identify circumstances that may lead to delays.
#LessonsLearned: How Personalizing the Scope Process Keeps Projects On Budget
#2) We collaborate with customers at each phase of the project.
We are able to get to know our customers on a partner-like level, because we work with them closely on the entire project.
We don't operate in a vacuum of what we think we know. We make it clear that we need to collaborate to be successful. We welcome customer insights and perspectives and use them as a tool to lead to success.
From the first meeting, we take our customers along with us. Throughout the entire project, we walk them through each step so they can understand each phase and help us identify any potential issues or hiccups in the approach.

#3) We are honest about the need for flexibility.
Projects are often late because the scope changes during a project. This is very common on HCM implementation and optimization projects — so we plan to be flexible and bake this into our scoping process.
We anticipate adjustments and look for the places where changes will likely occur and use that foresight to create more accurate project scope. (This is why our customers give us a 5/5 rating in flexibility.)
We are also honest about what it will take to bring a project to completion and don't cut down expected due dates to try and impress customers. Instead, we set a more realistic delivery date so customers truly know what to expect.
#4) We prioritize team consistency.
A true partner doesn't leave loose ends for you to tie up on your own. At Align, we know how integral team consistency is for leading to on-time completion so we work hard to keep the same team on a project from start to finish.
We prioritize our team and aim to create an environment where they are happy, challenged, empowered, and engaged so they stay with us (and our customers). It's working. Our average team consistency on a project is 80%, compared to the industry average of just 44%.

#LessonsLearned: Prioritizing People Leads to Better Project Consistency
Get Your HCM Project Delivered On Time
Our focus on partnership has allowed Align to deliver more projects within client expectations. This leads to better project outcomes and higher satisfaction.
It's why clients give us close to 5/5 across all rating categories on Raven Intel.
It's why we received the 2020 UKG Strategic Alliances Collaboration Award from our HCM software partner, Ultimate Kronos Group (UKG).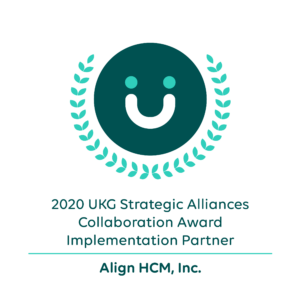 Our lesson learned is that partnerships are important and integral to success for everyone involved.
---
Do you have an HCM project you need to complete on time and on budget? Let's talk.
Schedule a call today to see how Align can help. We'd love to see how we can partner with your origination to upgrade and simplify your HCM processes.