There's a big misconception about the talent acquisition process. Most organizations think it starts when a candidate applies for a job.
But, employee engagement actually begins much earlier than that.
The talent acquisition journey begins with the way potential candidates perceive a brand. It begins with an organization's employer brand and employee value proposition (EVP).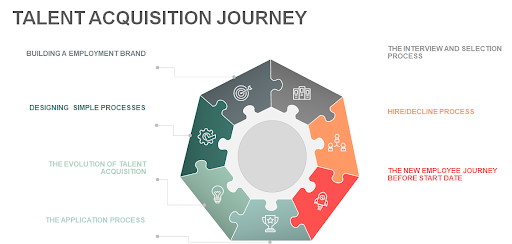 What Is an Employer Brand?
An employer brand is the reputation of the company as an employer and a corporate citizen. When a potential candidate thinks about applying for a role, it's their initial reaction when hearing about the organization. 
Companies invest time and money to ensure their brand is recognized positively. Do you reach for a Coke or Pepsi when you are in a store? Why? If you are looking for a job, do you apply for a job at Walgreens versus Walmart? You make decisions and show favoritism to brands because of what you think of their employer brand. 
Why Having an Employer Brand Matters
Digital experiences have changed the landscape of consumerism and employment. The wide reach of social media and ecommerce has had a major impact on all businesses globally. Public opinion on what others say about your brand influences the degree to which consumers want to buy from you. It also affects the degree to which candidates want to work for you. 
Candidate research on what others say about your brand has reshaped the idea of corporate employer brands. 
Job seekers research employee experience. GlassDoor, Google, Indeed, Fairygodboss, and other job review sites have increasingly become go-to sites that candidates use when searching for a new job. The sites provide current and previous employees an opportunity to share their experience working at a particular company. Candidates visit these sites to look at how organizations treat and value their employees, the benefits they provide, and their view on diversity and work/life integration. Candidates use this information to decide if they want to work there or not.
If you don't have a strong employer brand or if your employer brand doesn't align with candidate values, you may have a difficult time attracting and retaining talent. 
How to Improve Your Employer Brand
Companies with a strong employer brand invest in content creation and website management on employee review sites. They use them to post job listings as well as address concerns raised by previous team members. Numerous organizations have chosen to engage in discussions and respond to feedback from prior employees and potential candidates on these platforms. Others have chosen not to address concerns which results in outcomes that have hurt their businesses. 
Research on these sites works similarly to consumer websites. Customers often view vendor ratings and comments before making a purchase. Negative reviews and stars affect decision making. As a consumer, you may choose to pay a bit more for an item or service that's more likely to be high quality and delivered on time. Investing time and effort in creating a positive employer brand may yield comparable results. 
Organizations are increasingly investing in managing and creating content for consumers, employees, and candidates with the goal of sharing positive stories about the company.  
Content is focused on positive team member stories and what the team has done to give back to the community (corporate social responsibility). The goals of these posts show the organization in a positive light so that people want to work for the company. 
Showcasing the organization's values and purpose helps create an empowering employee value proposition. 
What's an Employee Value Proposition? 
An employee value proposition is the cross-section of the company's and the employee's desires and goals. The CEO and board create the vision for the EVP. In most cases, marketing/communications and human resources teams help facilitate the process of creating an inclusive value proposition for potential and current employees.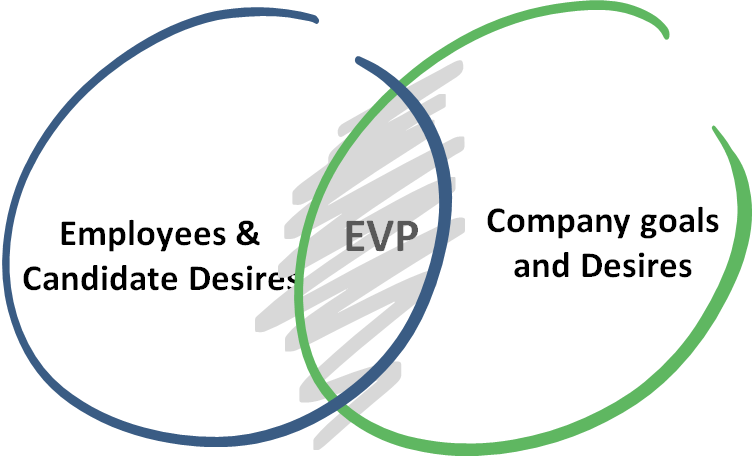 Team members and leaders should be involved in the creation. Feedback should be obtained by different segments of the employee base. Obtaining a diverse group of team members provides a true reflection of the culture and values. Facilitating this process may be more effective by bringing in a third-party and/or technology to encourage open, honest opinions. 
Feedback should be condensed, vetted, and revetted again.
The final product should also be vetted by leaders and employees to ensure that it's true and reflective of the culture. The EVP should be integrated in the communications plan, website, and internal employee site. 
Organizations who truly value the EVP have incorporated it into the interview process for potential hires. Those who live and breathe it also incorporate it into the performance management process and values.
 Let's look at Shopify's EVP.
The message speaks to candidates and current employees. Those who want autonomy and accountability may be more likely to apply. The message suggests their culture is filled with results-orientated individuals who desire to solve problems and want to make an impact. This is not surprising due to their significant growth over the past few years.
Creating a Strong Employer Brand and EVP
A strong employer brand and clearly articulated EVP help attract and retain talent whose beliefs resonate with the organization's. They help ensure that behaviors and actions remain aligned with the values that allow the company to thrive. 
If you want to improve your employer brand and EVP:
Use storytelling to promote corporate culture

Develop a content strategy and create targeted content for each persona

Post regularly on social media and corporate website and have team members like or comment

Obtain feedback on corporate brand and make adjustments as needed
Job skills and competencies and candidate profiles may change, however maintaining a positive culture should remain the anchor of an organization. When you have a strong employer brand and employee value proposition, you will have a market differentiator that helps you attract and retain top talent.