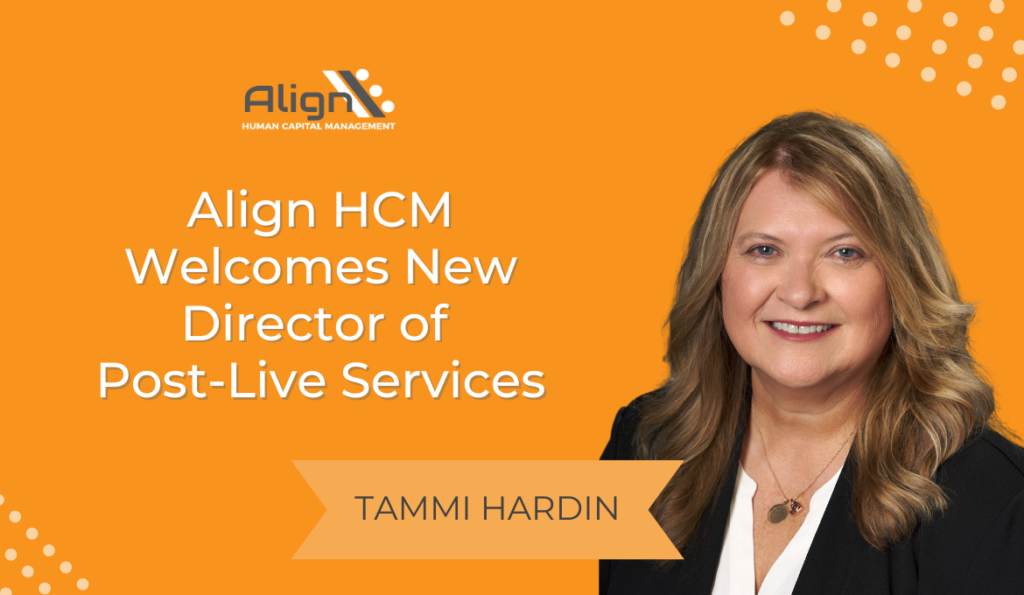 Industry veteran Tammi Hardin has joined Align HCM to lead our new SmartCare™ practice, designed to help clients excel in the post-implementation phase and "Do UKG Right."
Align HCM is pleased to welcome Ms. Hardin, a proven leader in the HCM space, as our new Director of Post-Live Services.
As Align experiences fast-growing demand from clients looking for an enhanced post-live experience, Ms. Hardin brings a wealth of experience in helping clients thrive with their investment in UKG.
"We could not be more excited to have Tammi join our team," says Mike Emsley, Chief Strategy Officer at Align HCM.
"Her leadership experience and success in helping clients with their HCM systems and processes are what will help Align take our customer experience to the next level."

– Mike Emsley, Chief Strategy Officer at Align HCM
Prior to joining Align, Ms. Hardin worked at InfoSync Services, serving as Vice President of HRO, responsible for all HR outsourcing operations, including payroll, HR systems, and benefit administration. Ms. Hardin also spent 20 years in the healthcare vertical at Life Care Management and the UT Southwestern Medical Center, focusing on human resource administration.
Ms. Hardin will be leading Align's SmartCare™ service which was created from extensive client feedback.
"In short, clients are not looking to replace product support, rather they are looking for help and best practices to care for and maintain their UKG solution. As HR and IT departments are leaner than ever, our clients want an affordable, proactive, and effective partnership to ensure they 'Do UKG Right.' Under Ms. Hardin's leadership, SmartCare™ is set to be a cornerstone of Align's solutions," says Mike Emsley.
To learn more about Ms. Hardin's role and Align's new SmartCare™ solution, contact the Align team today.