It's no surprise that executing an HCM software implementation can be difficult when a consultant goes silent.
Waiting on information or answers can complicate or stall a project and even bring it to a complete halt. Yet, a lot of HCM software customers experience a lack in response time when dealing with implementation consultants.
Bonnie Tinder knows just how frustrating a lack of responsiveness is to customers.
As the founder and CEO of Raven Intel — an online community that showcases reviews from enterprise software consulting customers — Bonnie sees how much customers value responsiveness and how it is often tied to the success (or the lack thereof) in a project.
"Responsiveness is one of the most important attributes that customers comment about their consulting partner.

It doesn't matter how much expertise a consultant has if they don't master the basics like good communication and follow-up skills," says Bonnie.
While responsiveness may seem like a given, some consulting firms don't put enough emphasis on their response time and communication levels.
But, not at Align HCM.
Prioritizing Responsiveness and Communication
At Align HCM, we strive to make our customers feel like we are a part of their team — and that means frequently touching base and quickly following up on questions, requests, and concerns.
Our commitment to communication is why our customers rate us a 4.9/5 when it comes to responsiveness.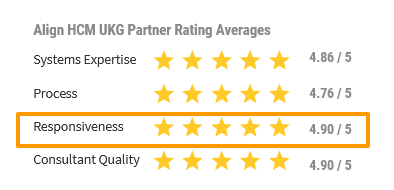 That rating puts us almost an entire point ahead of our industry competitors.
The average responsiveness rating in our industry is just a 3.96/5 , per data on Raven Intel.
Our high response rates and connectivity with our customers might be one of the reasons why we receive high scores across the board when it comes to other ratings such as systems expertise, process, and consultant quality.
Bonnie explains why.
"It seems simple, but things like promptly returned phone calls and emails are big. On the flipside, customers get frustrated when their consultants aren't accessible."
"The very best partners are those whose methodology includes standards for responsiveness as well as systems expertise. We see that clearly reflected in customer project ratings," says Bonnie.
Our communication skills are part of the reason why Align HCM has an average profile rating of 4.9/5 on Raven Intel for our work on UKG™ (Ultimate Kronos Group) projects.

While other HCM implementation partners and consultants don't prioritize consistent and clear communication, we've made it a part of our process at Align.
We've learned that a commitment to responsiveness and communication is vital to both:
Providing a great experience for our customers
Leading to positive project outcomes
It goes along with our partnership approach that allows us to deliver HCM projects on time and our process for personalizing project scope that allows us to keep projects on budget.
We understand that when we get to know our customers better and communicate with them more often the project will stay on track, run more smoothly and lead to long-term, more trusting partnerships and higher partner satisfaction ratings.

Our process is what leads customers to say, "Align HCM has experience and knowledgeable staff to understand and complete tasks quickly. They are friendly and easy to work with. Their attention to detail and communication skills are valuable assets for project work."
Work with a Reliable HCM Partner
When you work on an HCM implementation, you don't need a consultant. You need a partner. At Align HCM, we strive to be a partner who can support your launch services, post go-live services, strategic services, and everything in between.
Talk to us today to see how we can help you with your next HCM project. Schedule a call with us today.